My Vision Soothes the World
From the tropics to the West Indies' British Guyana to Key West, his free spirit came carrying the vibrant color and personality of the Carribean.
"So eccentric, the houses so majestic, the landscape so pretty, never ending. There is no other place like Key West. Here I 've lived the best years of my life."

Ray Rolston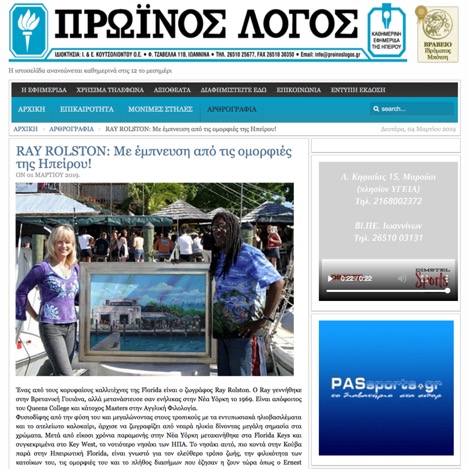 The art of Raymond Rolston in the Greek newspaper of Epirus "Proinos Logos".
Yes, they know about Ray in Greece too!
Article by Theodore Markis (https://tinyurl.com/y4q8otpt)
For an English version click here.
Coral Rehab Underway Off Key West
vassi44
KEY WEST (CBSMiami/FKNB) – Scientists and volunteers planted 200 live coral fragments Monday in the waters off Key West's Fort [...]
Presentation Award Ceremony for Yacht Races Key West
vassi44
January 12, 2016 Beep Beep Zip TANG! 10:24:02.  That is the monohull race record for the Fort Lauderdale to Key [...]
A Key West Tropical Forest & Botanical Garden Event
vassi44
ArtGarden 2015 April - July, 2015 Artists! Download the Artist Application HERE. Explore a unique blend of sculptured art with [...]
I'm in love with this one. Such a talented soul you are.
Searching for the perfect frames for your fantastic pictures. I already bought my citrus green paint to compliment them.
Just beautiful! Received my book and prints yesterday Thank you! Love them and you….have a gorgeous day down there….