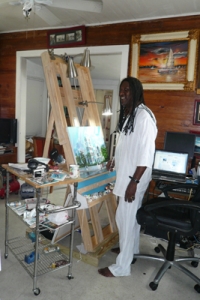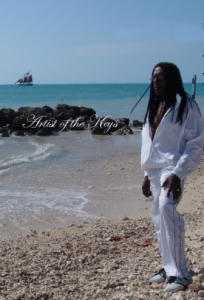 Ray Rolston was born in British Guyana, a small country nestled amid the rain forest at the northern tip of South America. Ray is a graduate of Queens College with a Master's Degree in English.
A naturalist at heart, and growing up in the tropics with bright sunsets and endless summer weather inspired him at an early age. He started painting the surrounding landscapes of his hometown. The many waterfalls and rivers of the area served as the perfect backdrop for his later works. After spending 20 years in New York City, he moved to The Florida Keys.
Key West, surrounded by the turquoise waters of the Gulf on the west and the Atlantic on the east, became his home and was just perfect for the creative mind as the casual Island life. Exotic Conch houses surrounded by the lush tropical landscape became his favorite subject, hence was born Key West colors. The exaggerated use of turquoises, yellow green and magentas has become his signature.
In his free time, Ray enjoys travelling all around the world, painting and taking photographs. He has enjoyed many trips to the Amazon region and the coral reefs of the Caribbean, where he has found unbridled inspiration for his painting. This is reflected in his coral scenes and landscapes.
Ray currently is working on his limited edition paintings of mermaids for a book illustration. Along with that he is expanding his vision in experimenting with abstract and unusual work, covering different musical albums. His work can be seen at "The Island Art" Coop at 1128 Duval Street in Key West, or at "Sunset Celebration" at Mallory Pier where you can actually meet the Artist.